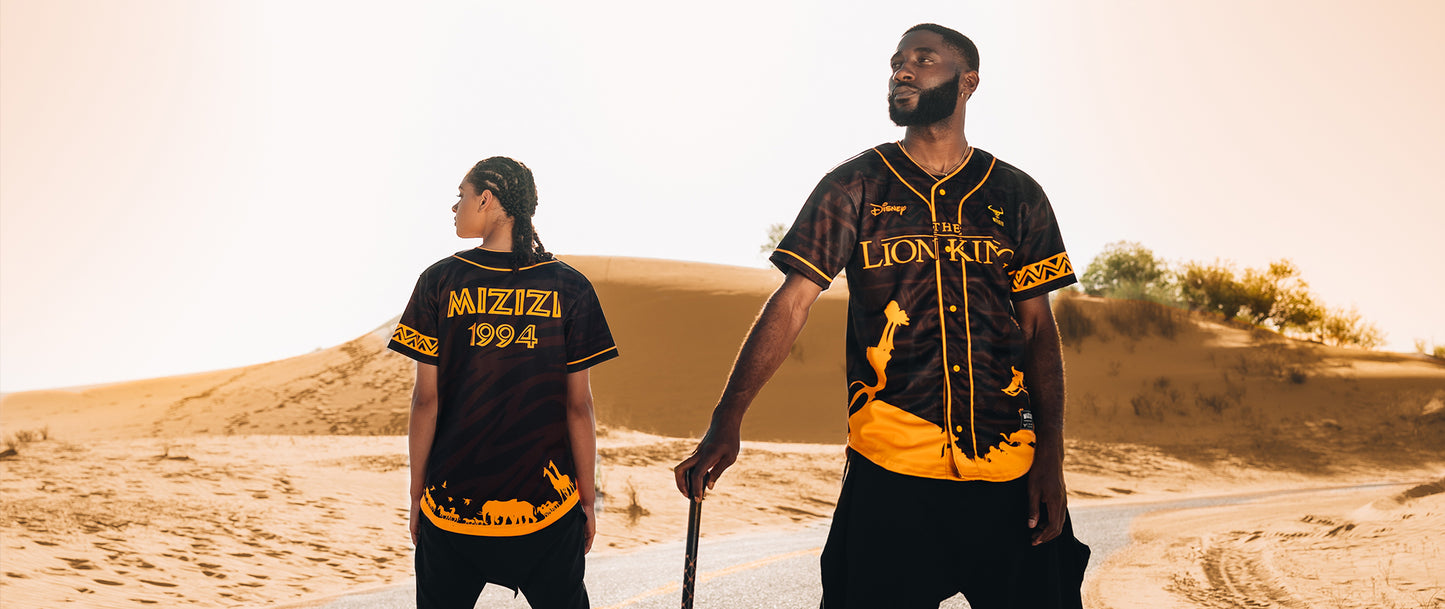 DALLAS, TX., July 18, 2019 -- MIZIZI announces the arrival of its LION KING Baseball Jersey in celebration of the 25th anniversary of the 1994 animated classic and the highly anticipated release of  the all-new Disney's The Lion King. This design was created by Kenneth William Obeng (@kwesioben), creative directed by Temi Thomas (@temithomas_) and captured by photographer Paa Kwesi Yanful (@kwesithethird). These jerseys are available for order on July 18, 2019 at 3PM CST/4PM EST.
MIZIZI International represents the generation that grew up with this beloved animated film and is now tapping into the next generation with the expansion into kid sizes. The release of Disney's The Lion King created a lasting impact on our childhood as it resonated with us long before we were aware of our identities. From the opening score chanting loudly in Swahili to Simba introducing us to his carefree mantra, "Hakuna Matata," Disney's The Lion King is a subtle reminder of our childhood roots. On its 25th anniversary and in celebration of the remake, we're proud and honored to announce that those roots can now be worn with our collaboration between MIZIZI International and Disney.
This jersey is 100% polyester fabric with full sublimation printing, creating a comfortable and soft texture. It displays a subtle tribal pattern print with both the Disney and MIZIZI brand names across the front, a Rafiki silhouette across the bottom, and a royal band on the left sleeve. The backside features the MIZIZI brand name and the year 1994 to commemorate Disney's The Lion King's original release year.  
MIZIZI empowers Afrocentrism through African roots regardless of origin or African heritage.The LION KING Baseball Jersey is here just in time to celebrate the 25th anniversary of the 1994 animated film and the premiere of Disney's The Lion King. Don't wait till the jersey is out of stock. Shop now to get this jersey, exclusive to MIZIZI International! 
#MIZIZIxLIONKING #StayRooted
( Photographer: Kwesi Yanful (@kwesithethird), Creative Director: Temi Thomas (@temithomas_), Videographer: Immanuel Ahiable (@immanuelahaible), Models: Hailee Dyer (@haileeapplewood), Ebichi Nduka (@prxnce.jpg))