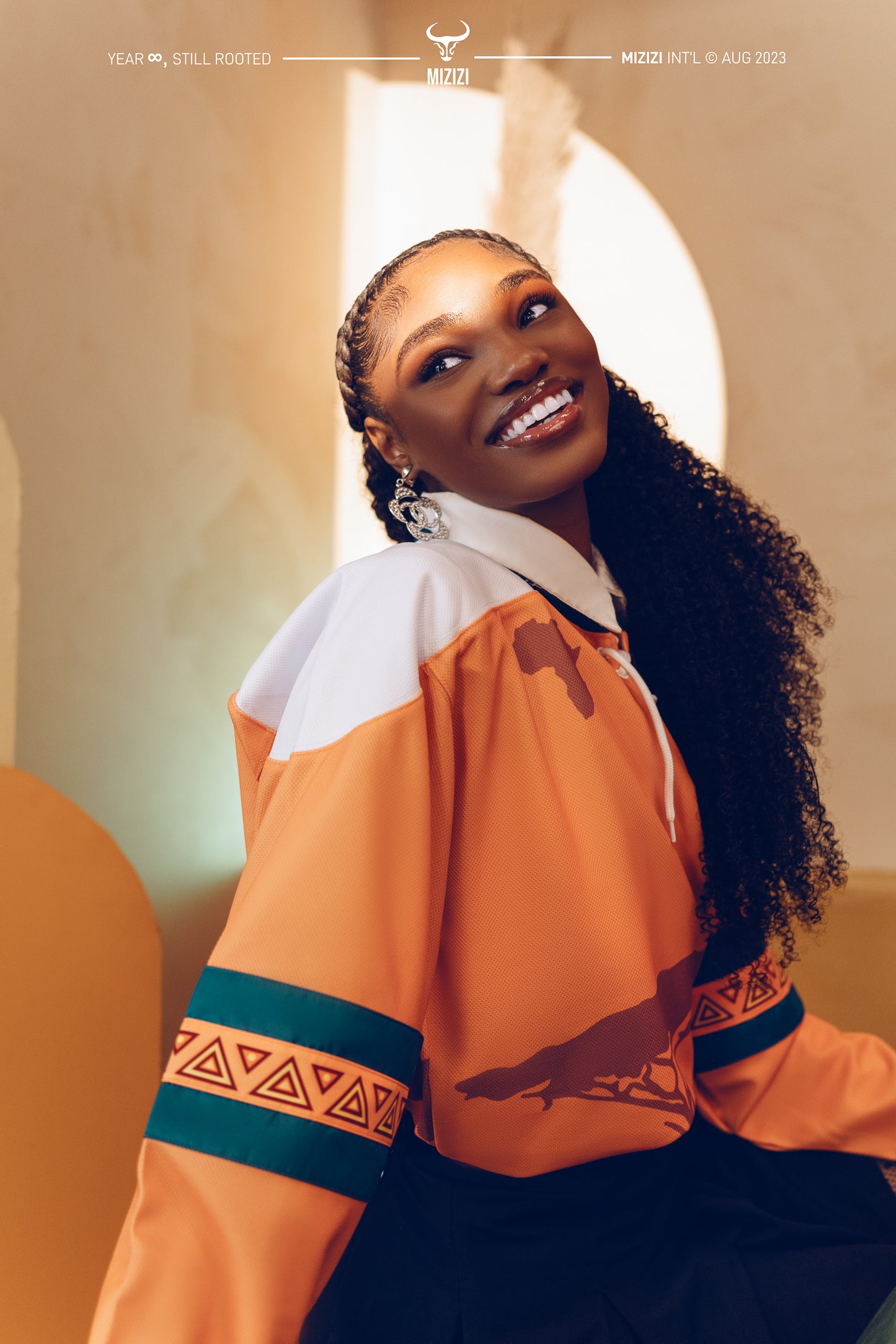 AVAILABLE FOR RELEASE ON AUGUST 30, 2023 - It is with immense pride that MIZIZI, the iconic brand dedicated to celebrating the African diaspora, announces the momentous launch of our latest creation, the African Hockey Jersey. This release marks our ∞ year milestone and represents a departure from tradition as we unveil our first-ever hockey jersey without a country name.
Captured by Kwesi Yanful, the African Hockey Jersey is donned by models Precious Agu and Reajine Sanders and styled by Amanda Taymor. 
Crafted with the continent in mind, the African Hockey Jersey is a symbolic and unapologetic celebration of our past, a recognition of our present, and a declaration of our future, forever rooted in the African legacy.
By utilizing complementary colors, the intention was to convey a sense of amusement, frivolity, and entertainment through the orange, while the blue symbolizes peace and serenity. These colors harmoniously combine to weave a tapestry of energy infused with symbolism, as explained by Emmanuel Berko, one of the designers at MIZIZI.
One of the standout features of the African Hockey jersey is the multi-colored tribal patterns adorning its bottom. Inspired by diverse African cultures, these patterns are a reflection of the continent's unity in diversity, highlighting our shared heritage while embracing our individual identities.

The back of the jersey proudly displays a large turquoise infinity symbol, this symbolizes our everlasting commitment to our African roots and the unbreakable bond among individuals of African diaspora worldwide.

"This journey has been nothing short of incredible. As we celebrate ∞ years of MIZIZI, I just want to say thank you to each and every single one of you that has gotten us here today. I'm thrilled to unveil our newest hockey jersey that embodies the spirit of our brand and the strength of our community. This African Hockey Jersey is a testimony that our connection remains eternal," 
Paakow Essandoh, Founder and CEO of MIZIZI.

The African Hockey Jersey is now available on our official website, www.mizizishop.com!