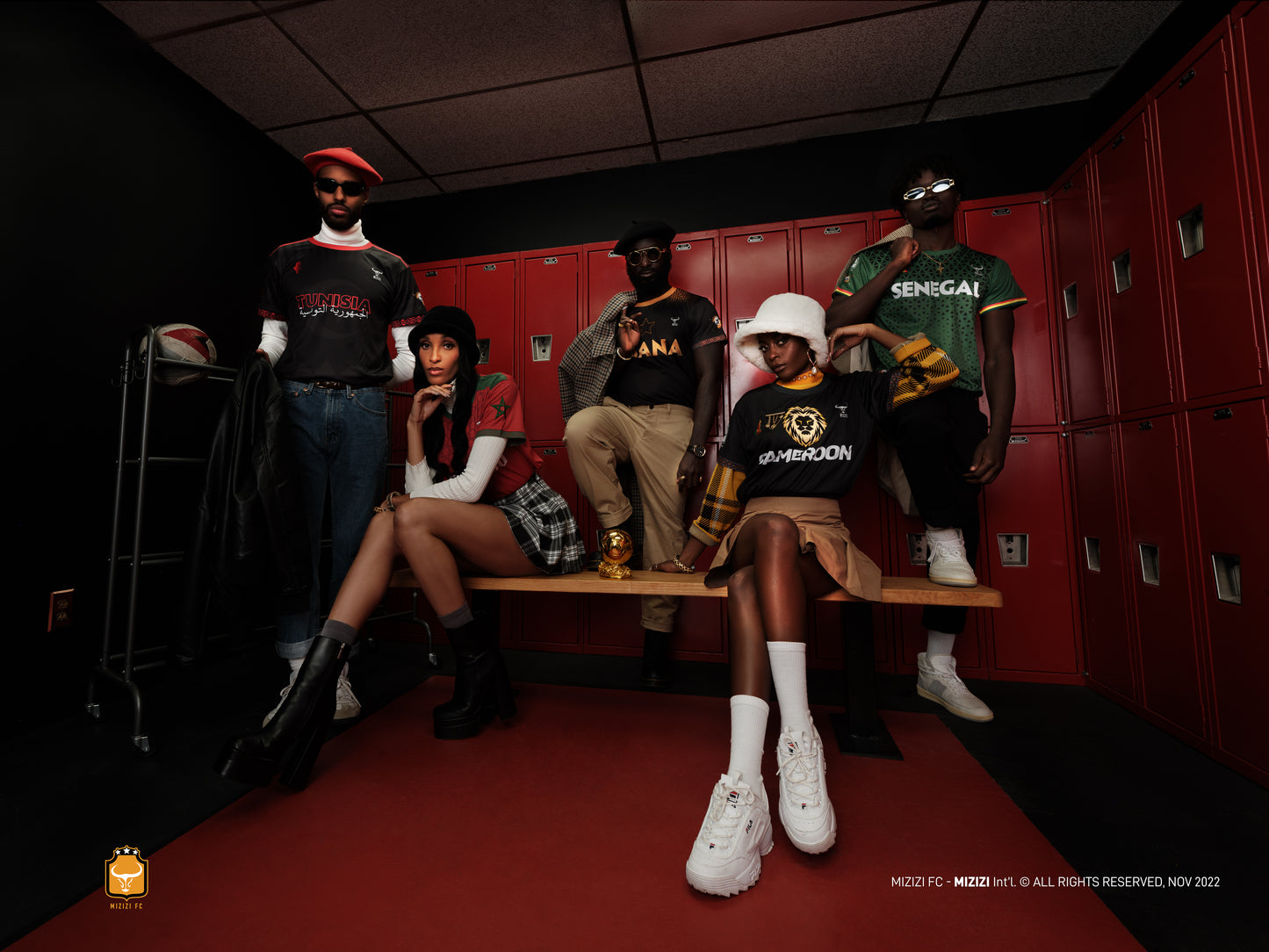 New York, NY – November 21, 2022 –
MIZIZI proudly reveals the limited edition MIZIZI F.C. collection, celebrating five African nations competing for soccer glory: Cameroon, Ghana, Morocco, Senegal, and Tunisia. 
With this collection, MIZIZI soccer jerseys get a sleek, bold new edit. Rich heritage meets elevated street style with traditional patterns subtly adorning solid canvases and sporty silhouettes. Color palates and symbolic motifs represent each nation's unique flag and history. Independence year numbers are splashed prominently on the back. 
The MIZIZI F.C. campaign features a diasporic cast of models and influencers donning the new soccer jerseys as imagined by designers Kenneth William Obeng, Kofi Berko
 and MIZIZI Founder and CEO Paakow Essandoh: smart, striking, and effortlessly cool. From the field to the fête, everyone is a style inspiration in MIZIZI FC. This is soccer style reimagined for a modern generation, always rooted and never apologetic.
The MIZIZI FC collection will be available online at
mizizishop.com
on November 21st at 11AM EST. Jerseys are priced at $80 and will be available in adult sizes XS-5XL.
Creative Direction/Photography by: Kwesi Yanful
Soundscape by: Xela of SupaSonic Studios
Tunisia Modeled by: Abdisalam Mohamud
Cameroon modeled by: Mariska Amougou
Senegal modeled by: 

 

François Kendama
Morocco modeled by: Precious Agu 
Ghana modeled by: Chris Antwi
Styling by: Amanda Taymor
Animation by: Jamel Baba
Makeup by: Devin Hayes