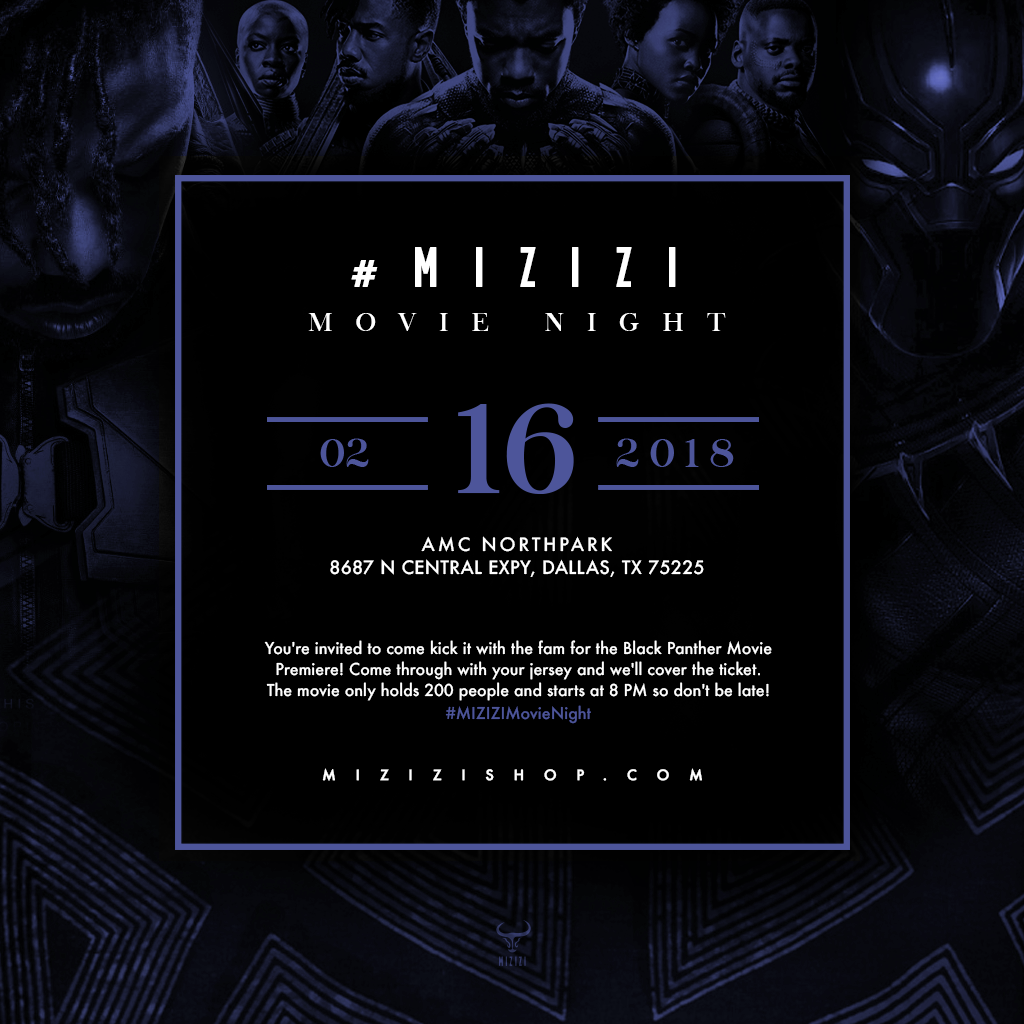 Rock Your MIZIZI Jersey and See Black Panther for Free!
Maxine Tatro-Parks | MIZIZI Urban Culture & Fashion Brand | February 2, 2018
There's Only 200 Seats Available, So Get There Early!
Let's do a quick comparison: wins and losses in 2017 (and no, we're not talking about Meek Mill). This past year has been a true challenge of patience and restraint for the culture. Sure, Kaepernick has ignited game-changing conversations, even taking hold of the well-deserved title of Citizen of the Year by GQ magazine. But those are just a couple wins compared to what's going on around us. Trump's foolery and catalyzation of hate in this country have almost green-lighted unjustified killings of people of color all over (among a long list of losses)—even calling our homelands "s***holes." -Practices restraint- At the end of the day, people of color still must consistently fight against a simple message that holds so much power—that yes, black lives do matter.
Can you blame us for gearing up (literally) for a WIN in 2018? In just less than two weeks from now, your mama, your grannies, your aunties, and your uncles, too will be coming out of every nook and cranny to view a movie made for and by black people: Black Panther, the first celebrated black Marvel Superhero.
Just let that sink in…a movie for the culture, by people of color, and ridden with black actors to show a positive role model in the black community? Not only is this a moment to remember, but it's a moment to share and celebrate over all social media platforms—and we want to do it with you, our people.
Not to be shallow, but you know everybody has to get fresh as hell to go the premiere. The culture wouldn't have it any other way, am I right?
What better merch to rock than that of a brand that truly lives, breathes, and actively propels the culture forward on a positive note? With that same mindset in place, we're inviting our customers to come enjoy a night to remember with us at #MIZIZIMovieNight. You're more than welcome to bring your friends and family along for the event, but we will be showing extra love to those that come dripped down in MIZIZI gear. In fact, the movie will be on us for the first 200 people that come wearing their favorite MIZIZI jersey!  
Here's a flyer for the event, so you can have all the information you need:
What's Next for MIZIZI
Don't worry, we're not just promoting MIZIZI products, we know that there's much more in store for the brand in the upcoming new year. In fact, there's even been talk amongst black twitter about a collaboration that we all support—and everyone knows that when black Twitter speaks, we usually get what we want.  
We've Spoken Marvel. Now It's Time to Listen!
No, but seriously—Marvel, are you hearing us? The MIZIZI brand has been an outlet for people from all over to represent what they believe in, where they come from, and make statements. Even when people don't have the strength, platform, or—let's be real—patience to deal with the backlash that comes with speaking our truth. Imagine how strong you would feel rocking a Wakanda Baseball Jersey to the premiere of your favorite superhero movie?
As we've seen before, the Black Lives Matter jerseys have sold out in the past, so it's never a question of whether our community is ready to support each other. Really, it's a question of if everyone else is ready to see what happens when people of color ban together and uplift one another through and through.
But in the meantime, we're here to support the culture. We want to make sure that everyone that has supported us will have the opportunity to see this game-changing movie and get inspired much like our customers inspire us to keep moving forward every day.
Document This Dope Moment in MIZIZI Gear
Although "MIZIZI x Marvel" wasn't a collaboration we initially knew we needed—it's something that we may possibly be able to look forward to in the future! Product launches haven't been scheduled yet, but we're already starting 2018 on the right note.
Plus, there's existing merch to rock and we can't wait to see you at our local North Park AMC theater. Go ahead and look fly as ever and #blackAF! Want to make a statement without having to say a word? Grab your Black Lives Matter jersey. Representing your homeland? Layer up your MIZIZI gear in this winter weather. Show off your style by using #MIZIZI, #STAYROOTED and #MIZIZIMOVIENIGHT when posting your pictures. We might just feature you!