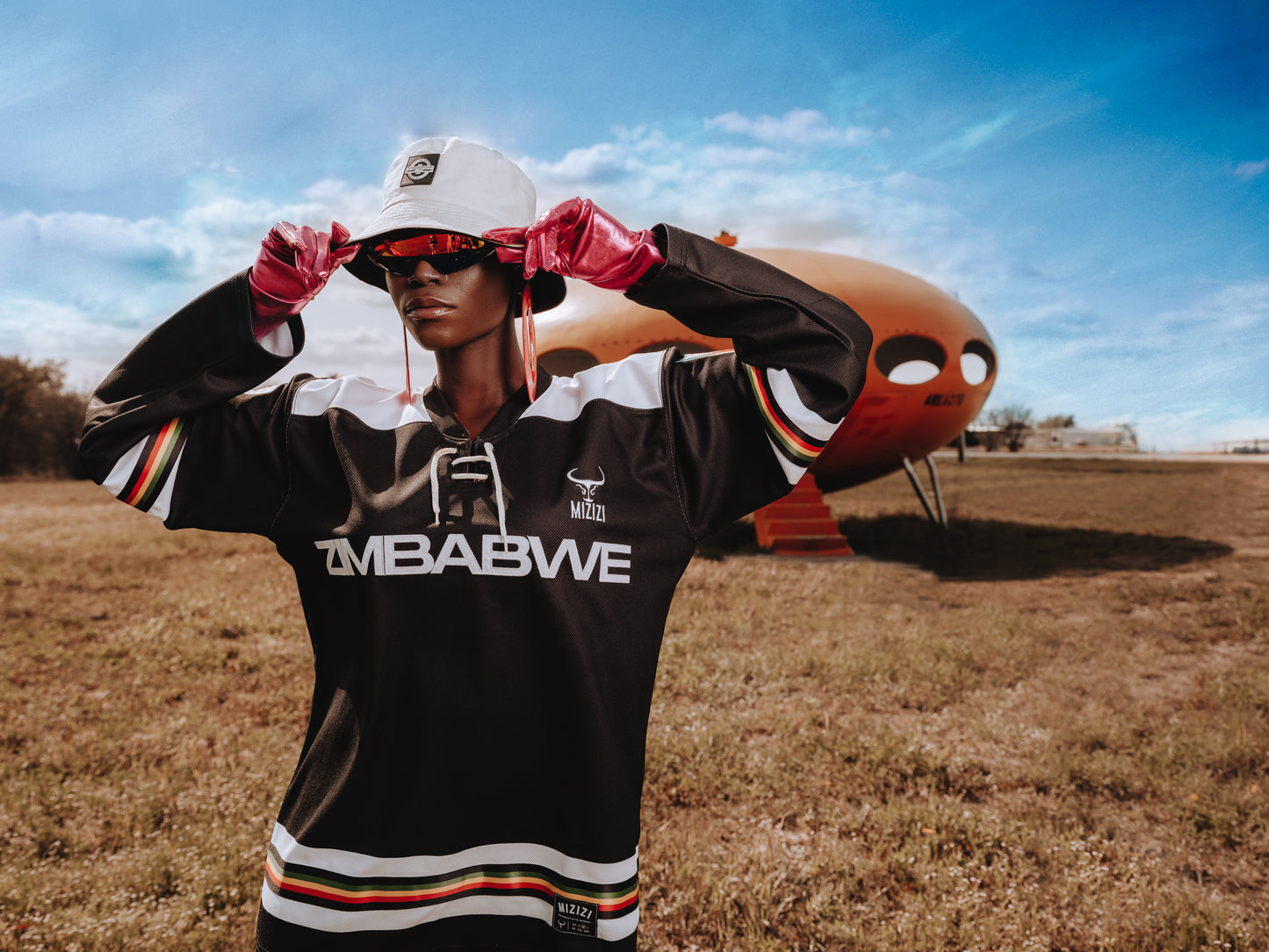 DALLAS, TX., April. 16, 2021 -- MIZIZI announces the arrival of its latest  Hockey Jersey to commemorate Zimbabwe's 41st Independence Day. The jerseys are available for purchase on Apr. 16, 2021 at 2PM CST.
The inspiration for the visual campaign drew from the 1994 alleged UFO sighting at the Ariel School in Ruwa, Zimbabwe. It's not often sci-fi meets Africa, and we wanted to honor that. Africa continues to showcase itself as a melting pot of experiences, people, and culture. Zimbabwe is no exception. The UFO sighting is a tale well known amongst the Zimbabwean community where on the morning of Wednesday, 14th September, 1994; 62 school children between the ages of 6 to 12 reported seeing a spaceship land nearby and aliens getting out of it. Whether fact or fiction, the event is a well known part of the country's history and is the theme behind our new Zimbabwe Hockey Jersey campaign.
This unique streetwear design was curated for all in the diaspora and more specifically, the Zimbabwe Diaspora. Just like our brand speaks quality, our products do too. "Zimbabwe" is written across the front of the jersey, with the country's flag patched on one shoulder whereas the country's national currency, the Zimbabwean dollar, is stitched on the other. The independence year, 1980, is displayed on the back with a black, red, yellow, green color bands stitched on the sleeves and along the bottom of the jersey. This jersey is 100% polyester fabric, sublimation printed with tackle twill stitching for optimal comfort. 
The campaign was orchestrated by creative director, Temi Thomas (@temithomas_), designed by Kenneth William Obeng (@kwesioben), captured by photographer Kwesi Yanful (@kwesithethird) and modeled by Victoria (@verifiedby.vee), Zuri Georgestone (@zurigeorgestone).
MIZIZI
is now a movement that transcends clothing; it's a worldwide celebration of individual identity and the roots that connect us all. Forever and always the goal is to
#StayRooted
.