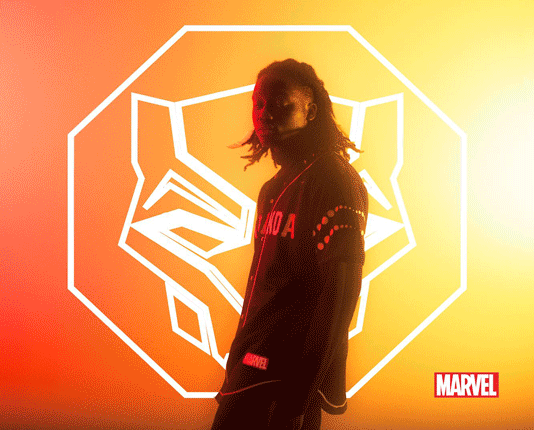 Driven by fan demand, Marvel collaborates with brand MIZIZI on a limited edition Black Panther inspired Baseball Jersey.
The release of Marvel studio's Black Panther has become a cultural phenomenon and fans of all ages are demanding fashion - forward, unique products to celebrate their love for the film; the Marvel Black Panther by MIZIZI baseball jersey was created because  fans and customers demanded it.
Crafted from high-quality, long-lasting materials, the unisex baseball jersey is adorned with the necklace of Bodil around the collar and embellished with "WAKANDA" across the chest.
On the collection, Ghanaian-American founder and visionary Paakow Essandoh said ""The Wakanda Baseball Jersey was originally inspired and birthed by our followers on Twitter.  Around the time the  Marvel Studio's Black Panther Trailer had dropped, a few of followers were talking about how they wanted to wear MIZIZI to the release and some even mentioned we should design an official Wakanda Baseball Jersey. After juggling the idea around a bit, I started doing some research and saw how remarkable the opportunity for synergy was.  Our mission has always been to authentically connect members of the diaspora so they can represent their roots and passions through fashion. Although some may not know where their roots originated, they can feel a sense of pride or belonging in the fantasy world of Wakanda. Through Marvel Studio's Black Panther, many people are finding their roots, and we want to immortalize that connection."
The Wakanda Baseball Jersey will be available from Friday, 05/18 at 7pm CST on www.mizizishop.com in adult size XS – 5XL for $79.99 here:
https://www.mizizishop.com/products/wakanda-baseball-jersey
ABOUT MIZIZI
MIZIZI, meaning "roots" in Swahili, is a lifestyle brand that embodies the spirit and strength of its African ancestors. Founded in 2015 and inspired by various cultures revolving around African roots, MIZIZI's limited, exclusive collections are clearly designed with their values in mind: connection and representation. It began as a reminder that taking pride in your roots is an integral part of self actualization and it has since transformed into a movement that leverages the power of representation to educate, revere, and connect the multifaceted members of the Diaspora. Just three years after its inception and MIZIZI is has transformed into a movement that transcends clothing; it is a celebration of individual identity and the roots that connect us all. Forever and always the goal is to #StayRooted
© 2018 MARVEL